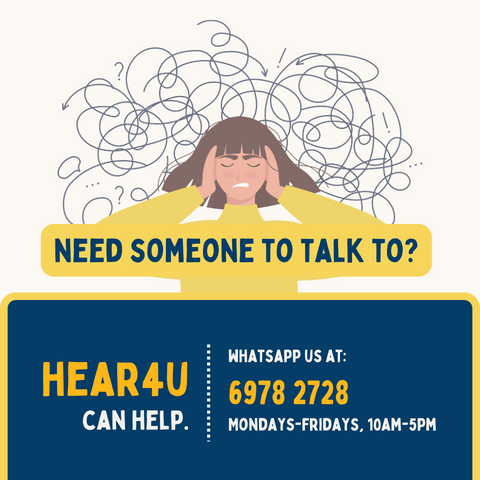 Hear4U is a confidential WhatsApp helpline that gives users a safe space to seek advice and express their concerns on emotional and mental issues. It utilizes Psychological First-Aid in order to provide support and a safe space to be heard for those that are struggling.
Hear4U is available from Mondays to Fridays, between 10am-5pm. Contact us via WhatsApp message to our dedicated lines, at 6978 2728!
In the event of an emergency, please call 995 or SOS at 1-767.

1. Send a text to 6978 2728 on WhatsApp.

2. Feel free to share your concerns — we are here to listen!

3. Every service user is unique — how the conversation goes would vary and we can also provide referrals and resources if necessary.
This service is not meant to replace consultation with qualified medical practitioners.
The accuracy of advice given depends on input provided by the users, and the advice may not be all encompassing.
For concerns not addressed by this service, seeking prompt consultation with qualified practitioners is strongly recommended.
Breach of confidentiality will take effect should there be harm done to self or others. Reference to ethical code of conduct from Singapore Association for Counselling.